There are two breeds of YouTubers.
The first breed consists of people who post YouTube videos about themselves, their business, or some other topic…and it pretty much ends there. I call these "Non-Sales-Oriented YouTubers." They may build huge followings. They may get a bunch of views. They may become wildly popular. But their YouTube videos do not lead to sales.
The second breed of YouTubers consists of people who post videos about themselves, their business, or some other topic…AND they provide either a link to a product, or a link to a free offer — on the video itself. Their YouTube videos lead to sales.
Let me demonstrate how the second method works. If you want your YouTube videos to lead to more sales, then keep reading!
I was recently looking at dance choreographies on YouTube, and came across a routine by Eden Shabtai. As is customary, several groups of dancers perform the same choreography to one song, while adding their own unique flare to it…and it's recorded in front of a large group cheering them on.
This particular choreography was filmed by Tim Milgram and shows dancers performing Eden Shabtai's routine to the song "Girls Like" by Tinie Tempah.
As someone who's recently been pouring herself into the hip hop dance world, this is the thought process I went through while watching:
First I was like "Holy sh#t, this choreo is AWESOME…" Then I was like, "I LOVE this song." And finally — barely in the threshold of my consciousness was the thought, "I want to learn this routine."
Before I had formulated the complete thought, the video began showing a "Preview the Tutorial" link on the lower right (starting around 4:01).
Perfect. What better way to learn the routine than by studying the tutorial?
As marketers know, "Preview the Tutorial" is a Call to Action (CTA) – which is an instruction to the viewer on what to do next. In this case, the preview was a 2-minute video showing the first couple minutes of the actual tutorial. It's like a free sample. It gives you a taste of what the full tutorial would be like.
By the end of the video, there was a 2nd Call to Action – a link to download the full tutorial: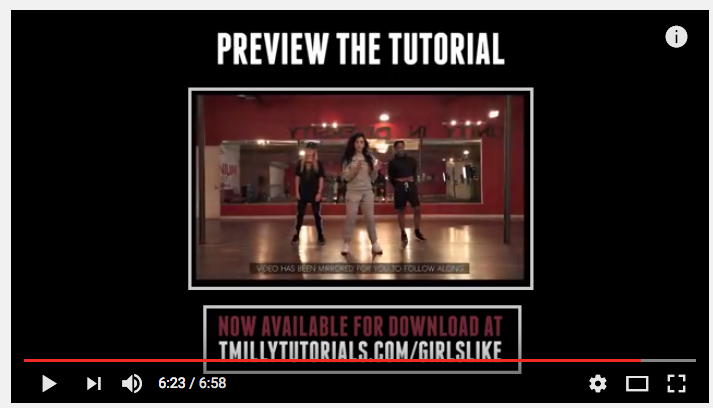 By that point, I had already made up my mind that I was going to purchase the tutorial. I didn't even need to see the preview.
I clicked the download link, was led to a simple sales page (tmillytutorials.com/girlslike), and forked over $4.99 without hesitation. The tutorial was delivered to me virtually and I began practicing it. Boom!
This is a great example of a YouTube video that inspired an immediate purchase.
Online purchases from new customers can happen easily and quickly.
Some home business owners get caught up thinking they have to jump through all kinds of hoops before they can make online sales – e.g., update their website first, and/or educate people about who they are first, etc. But this is generally just over-complicating things. This line of thinking is echoed in the cliche marketing advice, "People need to know, like, and trust you before they'll buy from you"…with the idea that this process takes "a long time."
But that's bullshit. Online purchases can happen quickly, if someone wants what you sell – and you make it easy for them to buy.
I had never heard of Eden Shabtai…and I had never bought any dance tutorials before this one. However, I had seen countless other videos like this one, from different choreographers — some even filmed in the same studio. What inspired this purchase? Aside from the fact that I liked the choreography and the song, they made it super easy for a purchase to take place.
This is proof that sales can happen fast, even if the customer doesn't have all the info about who you are.
…and YouTube videos are a great vehicle to make that happen.
How do you apply this to YOUR YouTube videos?
If you currently have YouTube videos, one quick thing you can do is add a Call to Action (CTA) at the end of every one of your videos. You can add it to the final 20-30 seconds or so of your video, through your YouTube control panel.
When I first start working with clients, I do an analysis of their existing YouTube videos, to see where easy edits can be made to increase sales. I have them add a note directly on each video — something like "For more free tips on XYZ, visit [website]." or a link directing viewers to a landing page where they can give their email addy in exchange for a free gift.

We also put the same Call to Action in the YouTube video description, AND on the YouTube channel description.
This helps tremendously for converting casual visitors into excited paying customers…or at least excited email subscribers who will become paying customers later.
As you've seen from the dance video above, you could also be bold and simply offer a direct link to your product that's relevant to the video content.
Either way, you're inciting viewers to take action.
Important Note: Asking people to follow you on Facebook, Instagram, or other social media sites does NOT count as a CTA – because you don't own any of your social media profiles.

A Call to Action is most beneficial when you're getting people to give you their email address, or make a purchase…or both. Why? Because you have 100% control over your email list. You can market to an email list, build that list continuously, and get as many sales as you want. (For a younger generation, you can also market via texting.) Sales are always more valuable than likes and followers.
Asking someone to click from your YouTube to your Facebook or Instagram doesn't make much sense. ALWAYS direct people back to your email list.
Of course, I couldn't end an article like this without a Call to Action…If you sell a consumable product and want help with increasing your online sales, get started by filling out this short questionnaire, so that I can learn more about your business and determine whether I'm the best person to help.