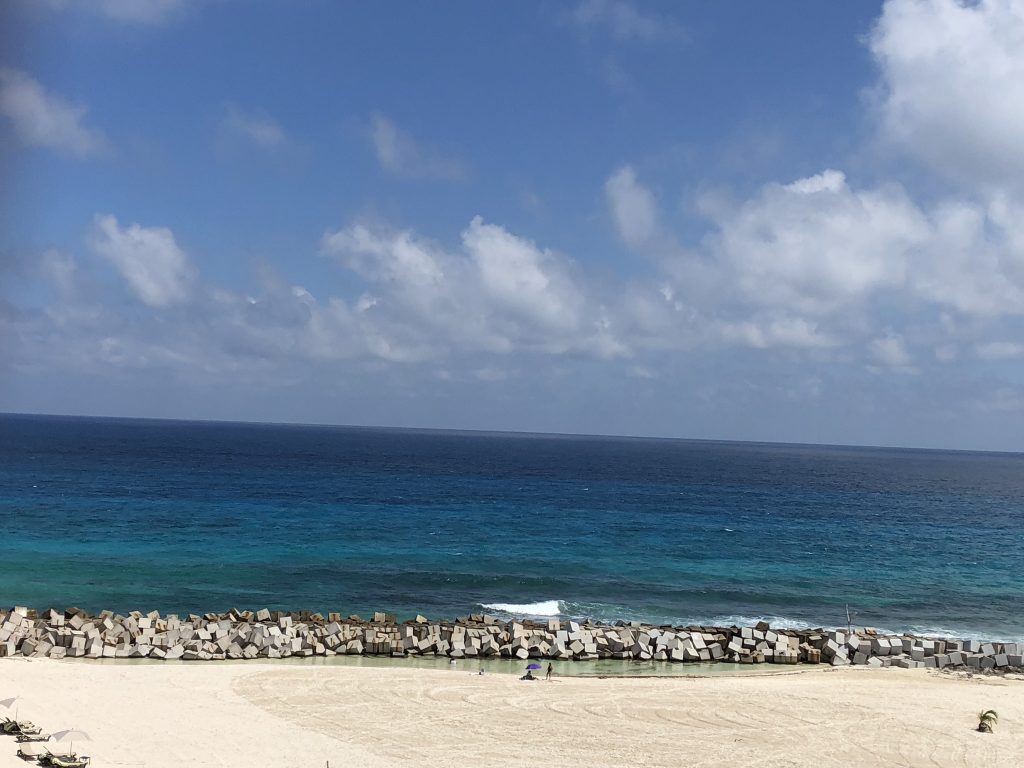 The turquoise water glistened in the sun. The vastness of the ocean called to mind "endless possibilities."
Climbing down the rocks, I braced myself for a new experience.
I got in the water, chest-deep, and walked towards the jet ski.
Dan climbed on first, then I pulled myself up. A feeling of giddiness washed over me, mixed with slight fear.
I'm not the best swimmer…but I had a life jacket on, so it was all good.
In choppy English, the attendant briefed us on how to use the jet ski, how to attach the key, and what to expect. It was a short conversation.
We had an hour before we had to return the rental…
Within seconds, Dan turned on the engine and cranked up the acceleration.
We started moving on the water….Soon we were going full speed, cutting through the waves.
He had done this a few times before, and wrecked. "Great," I thought.
I had never done this before. But I was eager to try, and knew it would be a physical and mental challenge.
Sure enough, Dan turned too sharply. We found ourselves falling off the jet ski into the middle of the ocean. "Oh shit, oh shit, oh shit!"
Before I hit the water I plugged my nose and squeezed my eyes shut. I quickly popped back up above the surface.
Hauling ourselves up, we climbed back on. Oops.
We knew it was better to fall off the jet ski right away, so that we were no longer afraid of falling off. We got the "failing" out of the way, fast.
…Then it was my turn to drive. Hell yeah!
We switched seats, careful not to tip over. I attached the key to my life vest. Turned the engine back on. Cranked the acceleration.
Full speed ahead…I had to adjust to the sensitive steering fast.
We tore through the water…screaming and laughing. Dan held onto me from behind.
Rushing full speed ahead, we had the entire ocean to ourselves…almost.
We had to watch out for other boats and other jet skis.
It seemed like other jet skiers were more hesitant, going slower. We raced ahead, embracing our "adrenaline junkie" nature. Searching out huge waves, we hit so many bumps along the way.
At one point, I almost let go of the steering…my hands were gripped so tight, and they were getting tired.
I was a grandma with my turns, taking them slowly so as not to launch us into the ocean unexpectedly.
Dan ripped through his turns faster. I braced myself for another fall…but it never happened. Only a constant splashing of water.
My huge sunglasses were helpful, blocking salt water from slapping my eyes.
It was our first time in Cancun…our second time in Mexico.
After an intense hour of driving, our gas tank was almost empty. The engine slowed down. My butt was sore from sitting and getting bumped.
"Next time, we'll figure out how to drive one of these things while standing up," we vowed.
I found myself wanting to master technique, wanting to learn exactly how to rip through the ocean without launching yourself off, by accident.
Mastery intrigues me, and the drive for mastery motivates me in everything I do…including anti-marketing.
Our week was jam-packed with awesome activities! I'll share more, plus pics, in a day or two!
Michelle Lopez
Anti-Marketing Manifesto