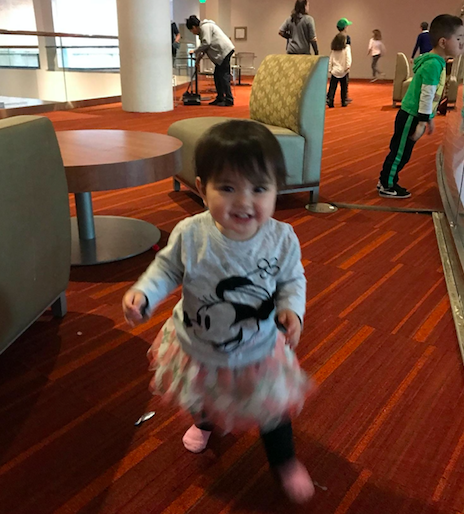 Happy New Year!
2018 can either be your best year ever…or it can be another year of avoiding and procrastinating growing your business!
I spent New Year's Day introducing Dan to the rest of my family.
He met two (out of three) of my brothers, as well as my youngest brother's two kids.
That's my niece Sofia in the pic above! She's a year old and adorable.
That was my first time meeting her, as my brother drove his family in from California. She reminds of me of my own baby pics.
Meanwhile, my nephew Jayden (in the background, wearing green) played with dinosaur toys and made constant "Rahhhh" noises. At four, he's bilingual, already speaking Japanese and English.
Dan brought his four-year-old daughter to meet my family, and the kids all played together… reluctantly at first, but eventually they opened up!
It was a cool experience…especially since I've never introduced previous boyfriends to my family before.
As you know, one of the coolest things about having a home-based business is that it gives you the freedom and flexibility to enjoy time with your family whenever you want, however you want.
…But only if you've mastered the art of making your business work. (If you're stressed out all the time, then you've already defeated the purpose.)
My time on New Years made me think of how important it is to never let your business interfere with your family life, and to never let your family life interfere with your business.
Both are important. None is more important than the other.
Without a thriving business, you can't support your family. You can't give them amazing life experiences.
And without meaningful family time… anything you earn in your business is borderline meaningless.
Both are essential to happiness.
Your business and your family don't need to compete with each other. You don't need to take something from one, in order to feed the other.
"Healthy boundaries" is the key to making it all work.
When you're working on your business, you should be 100% focused on your business.
When you're with your family, you should be 100% focused on your family.
This allows you to get the most out of each hour you spend.
Otherwise, your enjoyment is diluted as you're not fully present.
When working on your business, make each hour of work count.
(For me personally, the LESS I work, the more money I make. The caveat is that I really make my hours count!)
In 2018, I recommend you look closely at the things you're choosing to do with each hour of your time in your business.
You can create a lot of value in a single hour's worth of work (for example, by writing content that brings in a ton of sales).
On the flip side, you can squander a lot in 8 hours' time.
You get to decide what's worth your time.
Ponder that… and enjoy the rest of the first week of January!
Michelle Lopez
www.AntiMarketingManifesto.com