I just got back home from a trip to Utah and was excited to write today's article…
While waiting in a gift shop at the Salt Lake City Airport, my eyes were drawn to some unique figurines that I couldn't help oohing and ahhing over.
Normally I don't care too much about souvenirs or material objects. But something about these items drew me in: a small horse figurine, an angel, and a heart-shaped magnet — all made of clay and hand-painted.
The colors were amazing — a fade of fuchsia, turquoise, and orange for the horse (or maybe technically it's a pony). Same colors on the angel, but with a bit of silver, plus a tiny red heart in the angel's hands. For the heart-shaped magnet — more silvery colors with moon, heart, and star designs etched into the clay.
The "energy" of the objects was intriguing to me. I read the backstory and the product descriptions, which basically said for each object:

"This figurine is formed from raw clay. It is painted by hand, then fired in an outdoor kiln to 2000° F. Red hot, it is plunged into a pit with mesquite shavings, igniting a blaze, making your raku figurine entirely unique."
"Ahh, that's what it is," I thought. "These were made with love!"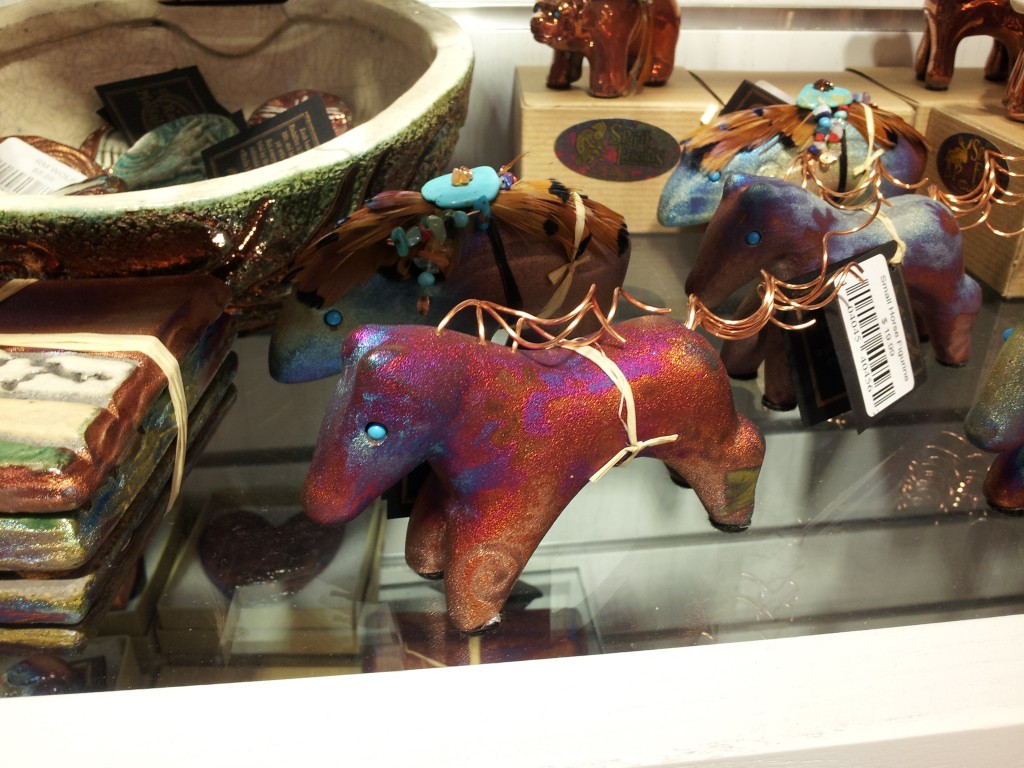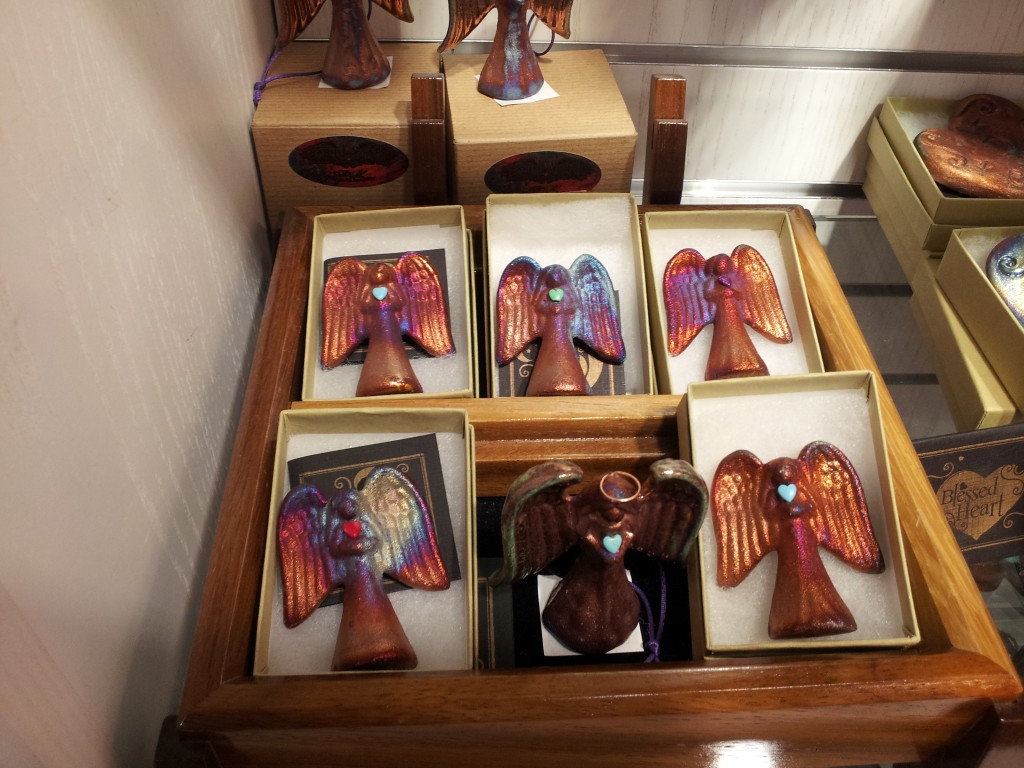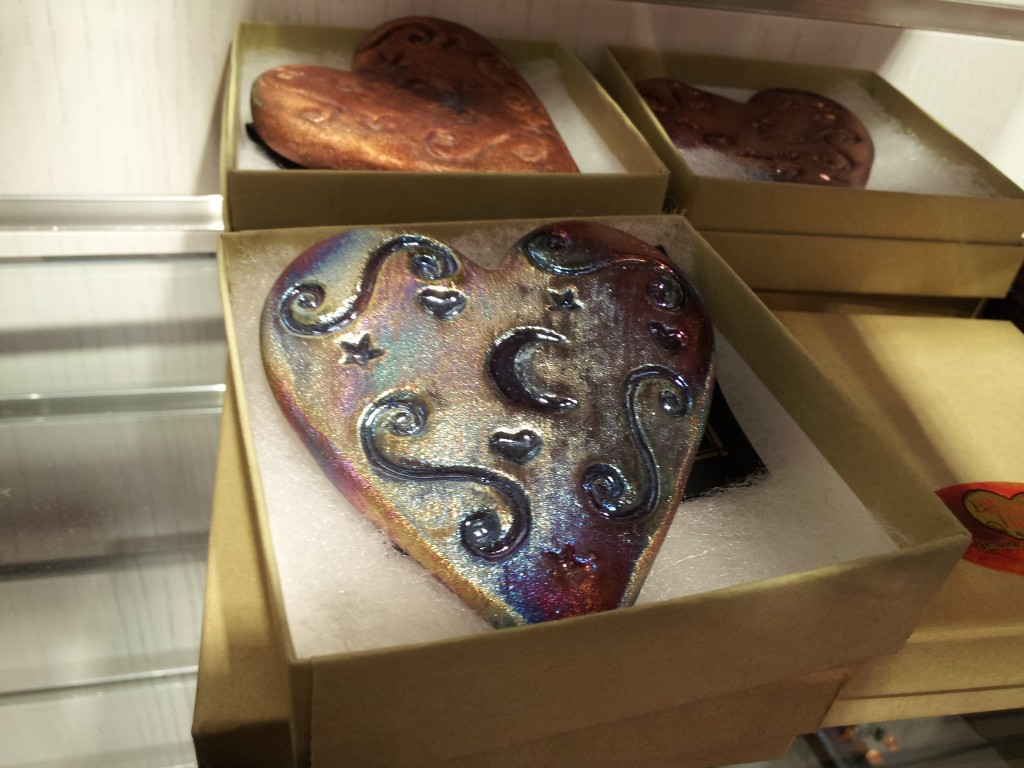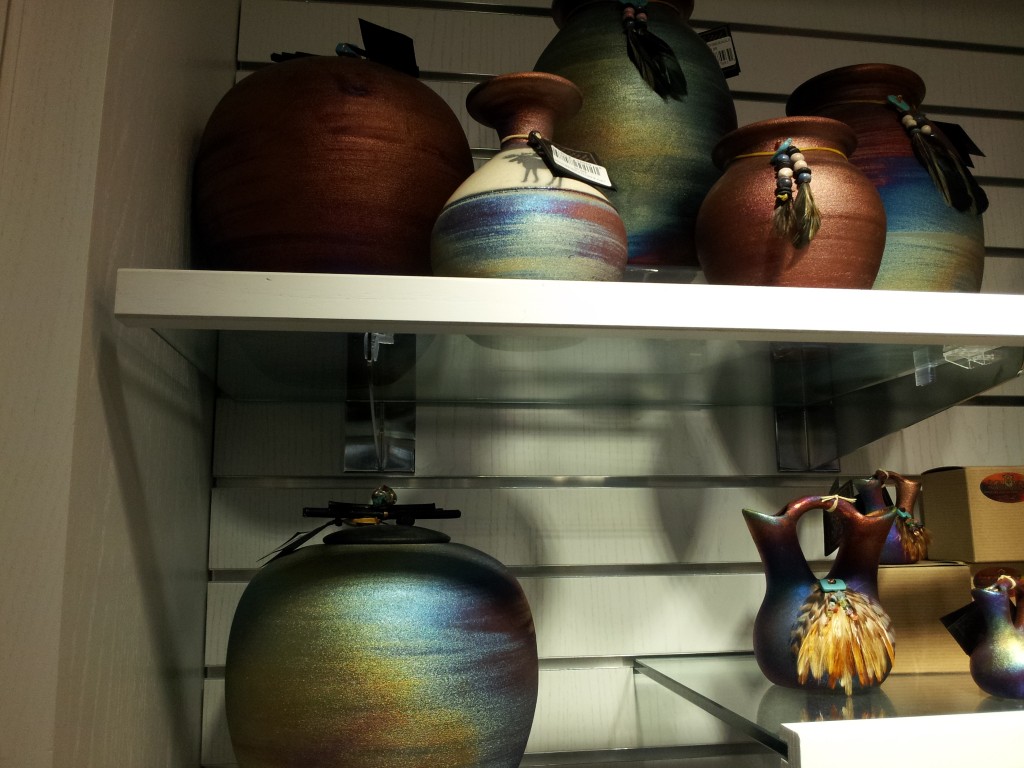 Some pics I took of Raku Pottery figurines with my cell phone at a gift shop at Salt Lake City Airport
When I read over the product description again, I realized the "unique" part is what jumped out.
These days, so many products are made in assembly lines in a robotic fashion, and there's no spirit of love involved.
That lovelessness gets transferred into the material object (the product), and the buying of the product generally doesn't mean much for the consumer. The whole system of it breeds wanton consumerism, rather than conscious consumerism.
But when you find a product that was made with LOVE, and you buy it because you LOVE it, there's an energy exchange that occurs that is, quite simply, satisfying on a deep level.
Is that kind of energy exchange "unique"? In a world filled with mostly loveless transactions, yes — it's very unique.

Picture of a sign describing the artist's (Jeremy Diller)'s inspiration
I glanced at the Raku Pottery Works website for more information behind their beautiful figurines. I learned that the company only sells their products wholesale to brick-and-mortar stores, and through a handful of online retailers. I couldn't help but smile at some of the testimonials coming from satisfied gift shop owners:
"With every shipment we receive from you, I am more impressed with the consistent quality of the items, the correct shipment of items ordered, and the care taken in the packing merchandise. It's just such a pleasure dealing with people who care so much about their craft, and treating their customers with so much respect. I sing your praises constantly to my customers, and they come away knowing that they are taking home a true treasure. Thanks for everything." – The Totem Pole, Cave Creek
"Raku Potteryworks is our Number 1 BEST SELLING vendor and our number one vendor when it comes to customer service. Their products are beautiful and I happily have to order frequently because not only are the products beautiful, their prices are reasonable and affordable for us, I cannot recommend them enough; AND they are always coming up with new and exciting items. We have been with them for many years and will be for many more. When you contact them with a question or an order you are thoughtfully and always well taken care of. They practice customer SERVICE and Aurora is wonderful, she knows her products and is a delight to work with." – Rita Caroni from Chippendale Engraving / Spiritual, Middletown
"We have never had an item [of yours] that did not sell well. All the items that we have in our store are beautiful and add a splash of color where ever we place them. Thank you for having such a wonderful product." – Red Rock Canyon, Las Vegas
"We carry the Raku Potteryworks angels and hearts. We only have to set them out and with in a couple days we are sold out! Each piece gives the feeling of being one-of-a-kind, which our customers love! Ceramics is a lost art form but Raku Potteryworks is making ceramics stage a big come back!" – Art for the Soul, Newport Beach, CA
"Thank you for wonderful products ! I was so delighted with the top quality of every item ! I definitely will be a life long customer. Your products are great for my small gift shop." – Carolee Johnson from R.C. Ridge, Olympia
(From http://www.rakupotteryworks.com/testimonials)
Frankly, as a business owner (copywriter & marketing specialist) myself, I'm inspired by these testimonials!
Note the keywords in bold. They represent the epitome of a great business:
consistent quality
care
correct
pleasure
a true treasure
bestseller
beautiful
new/exciting
thoughtful
selling well
one-of-a-kind
lifelong customers
When you have a great product like Raku figurines, the product usually sells itself (Raku didn't market to me; I simply happened to find their product while browsing at a gift shop)…but when you combine your great products with great MARKETING, it's like adding fuel to the fire.
In the past I've written about how too many good companies fail to stand out from the 'bad' companies, simply because they don't do ANY marketing, or their marketing is forgettable/mediocre. So basically, whether or not customers find their products…is totally left up to chance.
And guess what? You can infuse your MARKETING with all of the above positive qualities as well. Whether it's your blog, email newsletter, sales pages, interviews you do with other companies, or other content — marketing is a great realm in which to showcase your uniqueness and the "treasure-like" aspect of your products. (They are rare treasures, aren't they?)
Infuse love and beauty into all of your marketing content…and you'll attract the right people into your business…so that they, too, can fall in love with your products.
For lack of a better term, this all creates a "positive upward-spiral love-fest."
Sign me up for more of that!
I ended up buying all three figurines (how could I not?). I specifically chose them because of their amazing colors. All the products on the shelf were slightly different colors, due to the hand-painted nature of each one…hence the 'uniqueness'!
I felt like I truly did walk away with treasures!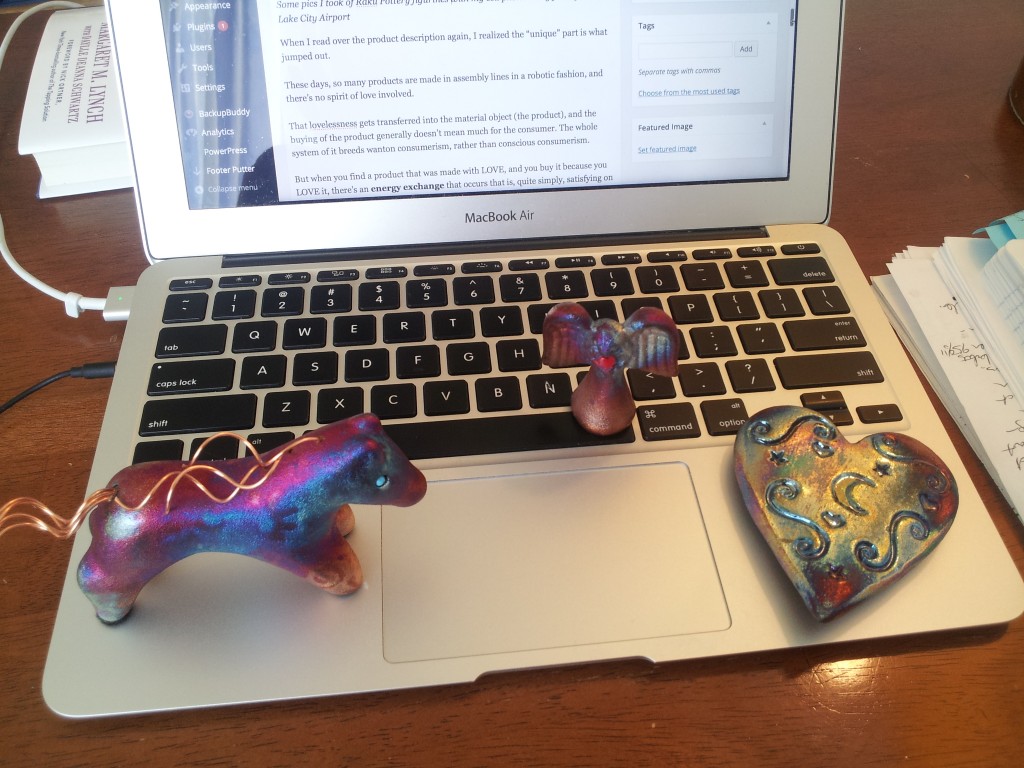 Now these objects sit in my office, on my desk, reminding me to pour love into every editing project that comes my way.
Merry Christmas.
Michelle