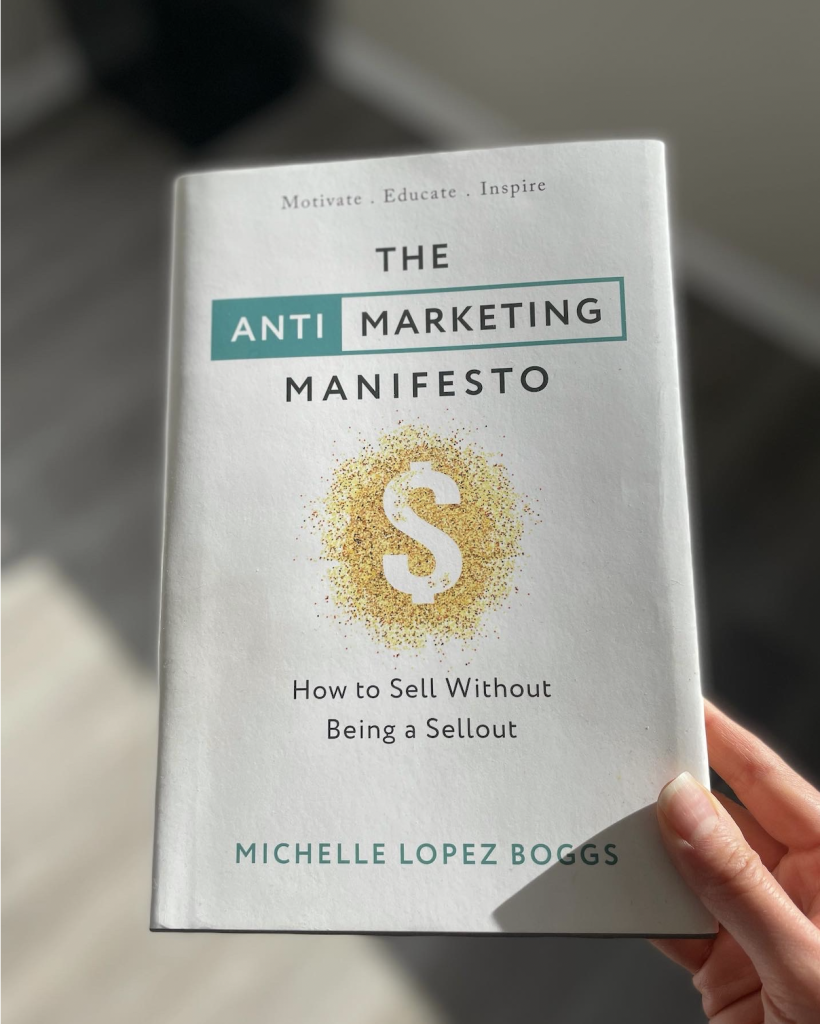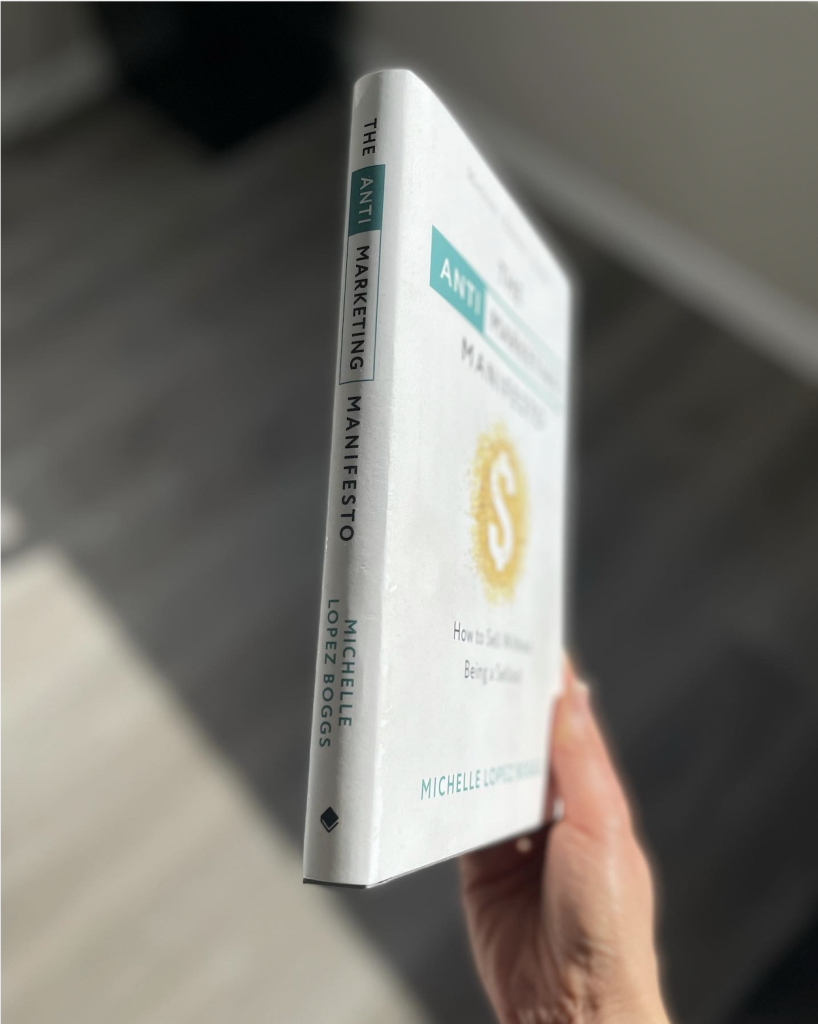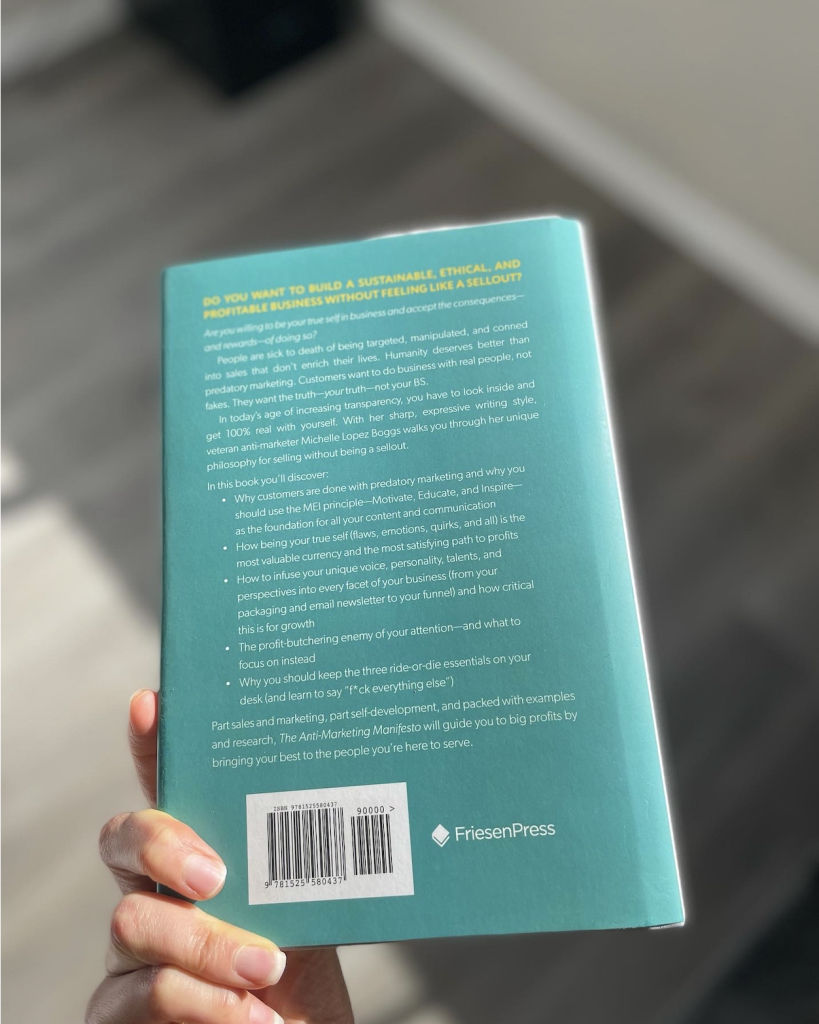 This book represents to me one of the greatest accomplishments of my life: finishing something I started that was hard and, at times, felt impossible.
A year ago, I published The Anti-Marketing Manifesto: How to Sell Without Being a Sellout.
I had to grow so much to get it all done:
Writing the content over several years
Scrapping 500 pages because it wasn't structured right and didn't feel right (and didn't reflect my real voice)
Hiring people to help me
Hiring the RIGHT people to help me
Editing
Design & layout process
And finally, the publication process
These were all massive steps with lots of waiting, repetition, over-communication, and patience involved.
The book came out as a gem. It's something I truly proud of.
I'm even more proud of the person I've become from reaching a goal that mattered to me.
So many people want to write and publish a book (let alone a GREAT book) and haven't done it. I'VE done it. 🙂
I know what it takes.
I know the pitfalls and the traps.
I've not only done it for myself—I've also helped other authors edit and finish their books.
The ultimate compliment is when readers tell me (or my clients), "It's soooo smooth."
"I devoured it in 2 days and couldn't stop reading."
"I can't wait to read your next book."
That's all a sign that I did my job: take a piece of writing that's a MESS and rework it so it's a smooth, enjoyable read.
We grow from doing the things we're called to do that feel impossible yet satisfying.
What's on your list of 'must do in this lifetime'?
By the way… equally important is NOT doing things you don't feel called (by your conscience) to do.
"Learn other languages," they told me. "Nah, thanks, I'm good. I'm still learning English—and that will take a lifetime of mastery."
Not to diminish anyone who knows multiple languages. Y'all are beasts. I can't even wrap my mind around that. (Three college semesters of German, two high school years of Spanish, and a year of Duolingo Spanish… and I still don't get any of it.)
English is the beast I was meant to master—writing and editing content to be pure gold.
A dork and a nerd at heart, I'm also (still) trying to master macros and physique. LOL. (Equally hard.)
And training a new puppy. (The hardest of all.)
What feels impossible to you—yet you know if you did it, you'd feel SO proud and satisfied?