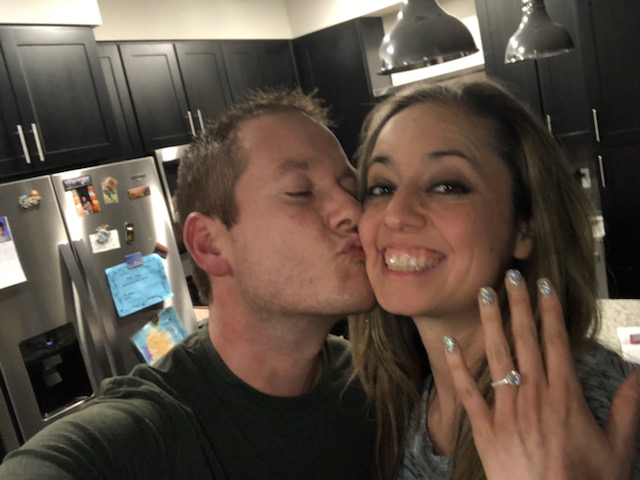 Dan and I recently celebrated our 2-year anniversary!
We are now engaged! He bought me a ring, and we plan to move in together in a few months.
…It's been a little challenging for me, 'cause I like my space and my independence! I am an introvert who re-charges by being alone. He's an extrovert who recharges by being with me!
But the rewards of this relationship have been too great not to continue.
By far, Dan is the one person who can I be 100% myself around… he knows all about my history, my past, my flaws, and loves me anyway. And vice versa. Plus, we challenge each other in a gentle way. (Sometimes I am not the gentle one!)
When I was a teenager, I insisted, "Marriage is BS! I'll never get married!" My Grandma always said, "You'll change your mind someday! Guess she was right.
In a strange twist of fate, Dan's 5-year-old daughter will be moving with her mom to Texas. (I never wanted kids!) They are working out the visitation details.
To improve our chances of having a successful marriage, Dan and I are going through couples counseling BEFORE we get married. The goal is to improve our communication, strengthen our bond, and grow even closer.
The sessions have been illuminating, fascinating, and precious.
(Oh and Dave Ramsey's work has been inspiring me to get on the marriage train! The dude is a fabulous anti-marketer on so many levels!)
Each day, I look at the sparkling ring on my finger, and think, "Commitment makes life better, doesn't it?!"
…But you have to be committed to right things, not the wrong things.
(Some people are committed to drama, strife, and struggle and don't even realize it.)
When you're fully committed to your partner and the strength of your relationship…everything is better.
When you're fully committed to your business, your message, and your profits… everything is better.
When you're committed to MEI'ing (motivating, educating, and inspiring) your customer base… everything is better. People feel like every email you send and every blog post you publish is a little Christmas gift they can't wait to open and read.
Whether it's commitment on a macro level (e.g., "we will never sell our product in stores") or commitment on a micro level (refusing to do even a tiny thing that doesn't align with your values)…
Commitment is the secret sauce that makes everything better.
What are you committed to?
Talk soon,
Michelle
Writer, Editor, Copywriter
Founder, The Anti-Marketing Manifesto
~~~~~
Do you need sales pages, email promos, blog articles, lead magnets, or other materials written or edited to help grow your home business?! Send them over to me for a free quote. I am now booking projects for March.
All of my writing comes with a Satisfaction Guarantee. If you hate it, send it back for free rewrites until it's right!